SECURITY SYSTEMS & SOLUTIONS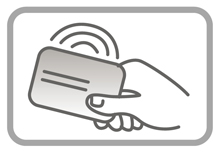 Card Based Time Attendance Machine is a standalone card based Time Attendance Machine. RFID cards can be used for marking attendance. Every employee can be given RFID cards which will be uniquely identified by our card based time and attendance machine.
A-CT1
RFID Time and Attendance Systems, IN and OUT status User Capacity: 30,000 Transaction Storage :50,000 Communications: RS232 ,RS485, TCP/IP Card...
READ MORE
SECURITY SYSTEMS & SOLUTIONS